A change in system saw Blues run out comfortable winners over Norwich, as Gary Rowett's 4-4-2 took Norwich by surprise and exploited a few weaknesses in Norwich's defence. This was a far cry from the Wolves game, in which Blues were crushed in their own deep block and failed to get a stranglehold on the game.
I'm going to look at what worked and what didn't.
1. David Davis' role:
I was quite vocal on twitter about Davis' performance in the Wolves game. He was incredibly poor in that game, but I don't think that's his fault. He has a specific set of skills that really suit a pressing game, which is why I actually think he's a decent winger in certain situations. That said, in the double pivot at Wolves his eagerness to press and lack of composure on the ball really showed up. Blues were forced to go long due to Davis' resistance to dropping deep to collect the ball. Davis touched the ball just five times in a central position in Blues' half - Gleeson around 10 or 11, which still isn't good enough, but it's better.
More importantly, he was defensively slack. A lot of Wolves possession came in Blues' left halfspace, which should have been his responsibility as the left-sided DM. It's clear looking at touch-maps (below; Blue represents Wolves touches. Wolves attacking towards left) that this is where a lot of Wolves' joy came and allowed them to put pressure on Grounds and Shotton on that side. Davis attempted just one tackle in this area, and he was the only one to make a tackle there.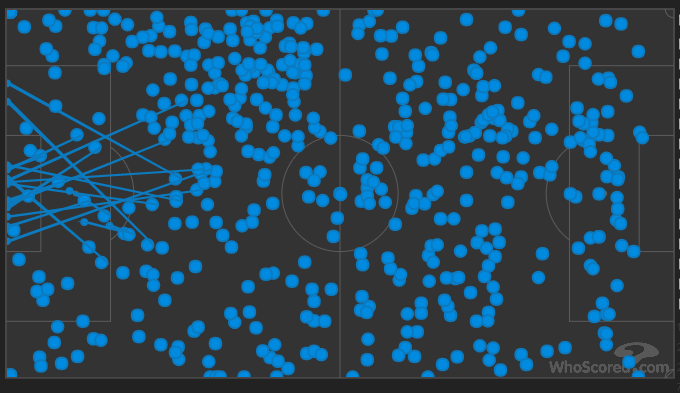 Blues failed to defend their left half-space properly. (Via WhoScored)
Now, against Norwich, he played in a system which suited him. Rowett decided to press aggressively, which was especially useful with Cameron Jerome out, as it meant Norwich couldn't play a long ball over the top in order to evade the press. This pressing system suited Blues wingers down to the ground - I've long admired Maghoma's defensive abilities - and Blues won the ball 12 times in the Norwich half, three times as many as against Wolves. Davis often instigated the press and Norwich struggled to get past it, relying on Tettey to be the dictator.
2. Central midfield.
An overlap into the Davis chapter, but Tesche and Kieftenbeld dealt with Hoolahan very well. Hoolahan is an incredibly dangerous player if he can get into 'Zone 14', the space just outside the edge of the box. Tesche and especially Kieftenbeld stopped him getting into that position where he can hurt Blues. Norwich managed to get so far but appeared to hit a wall.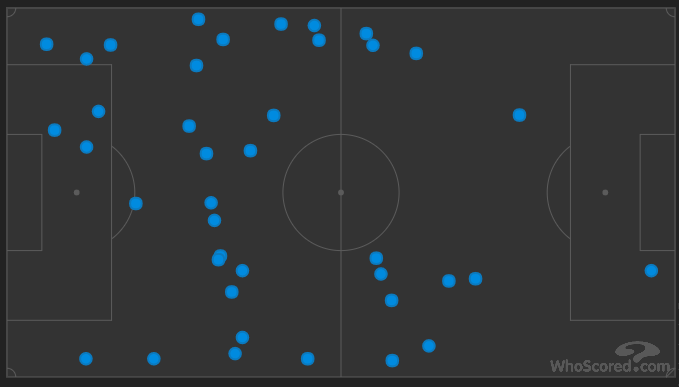 Norwich consistently lost the ball 30-35 yards from goal. (Via WhoScored)
Predictably, Blues had issues in the half-space on the other side, however in a 4-4-2 with pressing wingers that's where the space will be. Norwich gave the ball away many times in the right half-space and as such, Blues were able to win the ball back nearly twice as much as against Wolves.
Tesche and Kieftenbeld were also more comfortable in playing possession football when we needed to and broke forwards from midfield well - including one instance where Tesche really should have scored.
3. The Front Two
Che Adams has made a big difference already. Despite playing in a similar position, he's a very different proposition to Diego Fabbrini. Interestingly, against Norwich, he stayed central and Donaldson shifted out to the right a lot, making a sort of 4-3-3 at times. Donaldson has benefitted most from Adams' ability to press defenders, turn and run at defences and occupy defenders. Donaldson looked much more like the player he was two years ago, as he sprinted past Norwich players, was a physical presence and a goal threat.
Adams collected the ball in central positions in the opposition half 13 times against Norwich, where he can run at defences. His pace and strength are incredibly useful in holding off defenders and makes him and Donaldson a nightmare to play against.
According to Expected Goal data, an objective measure for measuring quality and quantity of chances, Blues attacked Norwich better than any other side in the league. Blues created an 'expected' total of 1.7 goals, including the penalty, which is more than Norwich conceded in the first three games put together. Given Donaldson created Tesche's chance, won a penalty and then scored, it's fair to say he was a big part of that.
It's entirely possible this total is conservative - Tesche's chance had only a 63% chance of being converted according to location and angle, but this doesn't take the speed of attack and position of defenders and goalkeeper into account which would likely make it a better chance. Similarly, Adams' one on one from a tight angle.
4. Conclusions
It's difficult to make conclusions from such small samples, but Blues were demonstrably better against Norwich. On the other hand, that system won't necessarily work against every team. I would, however, play the same side against Fulham, whose left back is particularly dangerous. It's well documented that Fulham have made the most passes in the league, so maybe going and pressing them will be dangerous as they may be best placed to dodge it. I would still try it, however, as Matt Smith will hurt us if we try and play deep, as Fulham will be able to hit him directly.
4-4-2 seems to suit us but I wouldn't rely on it in every game - but Che Adams has to play no matter the system.